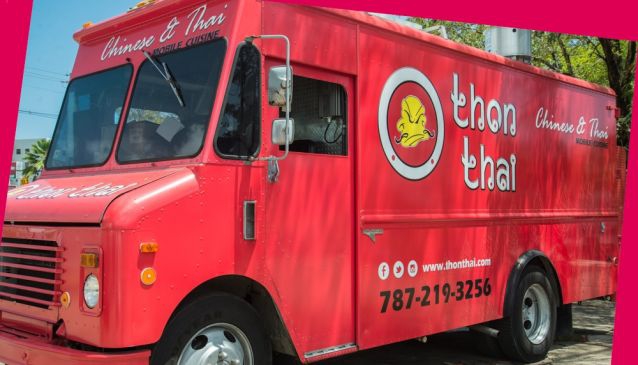 Gourmet Food Trucks
Food & Drink
Many of the chef/owners are trained in the culinary arts at some of the best schools in the US.
The new gastronomic trend in Puerto Rico moves on wheels. The proliferation of Food Trucks is increasing island-wide from the mainland to Culebra to Vieques. This trend has created a new culinary scene; street food fans love mobile kitchens. Gastronomía Urbana Móvil (G.U.M.) brings together the best "Food Trucks" from Puerto Rico and Culebra under one label that guarantees excellent service, top quality food and a team of highly committed professionals.
Under the G.U.M. label, thirty of the most creative food trucks with a wide array of cuisine styles are roaming the streets of this beautiful island. From Asian, Thai, Italian, Mexican and Columbian food to traditional Puerto Rican dishes and creative fusion developed by talented chefs. The food trucks exceed expectations serving gourmet creations and street food made with the finest and freshest ingredients the majority which are locally sourced. Many of these new Puerto Rican "Culinary Gypsies" are entreprenuers trained in the culinary arts at prestigous universities such as Johnson & Wales, Le Cordon Bleu and The Culinary Institute of America. Others are food entrpreneures with many years of experience running succesful mobile kitchens.
Within this exciting new local culinary scene, G.U.M. highlights several food trucks that are serving their creations during lunch, dinner and some late into the night. Other hightlighted trucks participate only in local events held throughout the year at different locations and private events in Puerto Rico. These events may include Destination Weddings, pop-up dinners and special catering events.
Creole Cusine
Puerto Rican cusine is certainly far from boring or bland, and some food trucks are taking local dishes to another level. For example, a stuffed mofongo with chicken bathed in a carbonara sauce, arepas filled with shrimp and chunks of amarillitos (sweet plantains), or a rellenito de apio filled with corned beef are just a few of the creations that fuse traditional Puerto Rican food with the creativity of these chefs on wheels.
At La Mancha de Plátano you can savor a plantain soup with strips of skirt steak and melted Swiss cheese on top, or you can enjoy a Ceaser salad with tender chicken and croutons made out of fried crunchy plantains. Satisfy your sweet tooth with a delectible coconut pudding topped with toasted coconut.
Cosechas serves a creamy pumpkin soup served with a touch of cilantro oil, and some out of this world sausage sliders with provolone cheese accompanied by fries seasoned with truffle oil.
Birimbao offers delecious homemade sausage patties stufed with chorizo served on artisan bread with a delectabel guava mayonaise spread. You can also order a traditional Philly Cheese Steak on French bread.
Oriental Cuisine
The Oriental cuisine served up by many of the food trucks is varied with many of the dishes staying true to the original recipes. Some chefs have adapted these traditional recipes to suit the Puerto Rican palate.
This innovative food truck serves Lo Mein and BBQ Moo Shu Pork but where they really get creative is with their iconic Pork Bun Baos.
Nam Pla
Vietnamese food in Puerto Rico? Well yes, Nam Pla is famous for their dumplings stuffed with grouper, octopus and edamame served with a basil aioli. Not to be missed is their noodles with sesame sauce and cucumber or Samosas with quinoa, kale and eggplant.
Italian Cuisine
Pasta is an essential part of the offerings of several food trucks and all do it quite well. Some food trucks are taking traditional Italian cuisine to another dimension.
Il Furgone
This Italian Food Truck specializes in risotto and one of their best is the vegetarian risotto with eggplant parmigiana. You can also try a pork loin with mamposteo style risotto or their famous Meatball Sub made using a traditional recipe.
Bene Bene
This mobile kitchen serves up many Italian specialties and is best known for their Arancinis, an Italian rice ball made with white wine risotto and gooey mozzarella center served with ragu sauce.
If you are looking for instant gratification for your taste buds and want to experience the new culinary trend on the island of Puerto Rico, food trucks are your best choice. The fusion of fresh ingredients, cooking know-how and a dedication to quality of these mobile kitchens combine to make for a unique and unforgettable culinary adventure. Enjoy all the possibilites that our food trucks have to offer, visit them soon.
For every street foodie there's a food truck that pleases the most demanding palate.
What are your favorite Food Trucks in Puerto Rico?
Let us know on Facebook, Twitter, Google+ or Pinterest!
Written by:
Alfredo Hannibal
PUBLISHED: Jun 9th 2017