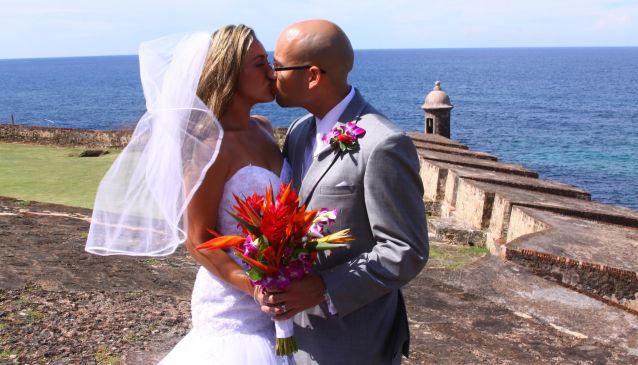 Puerto Rican Destination Weddings
Arts & Culture
Puerto Rico is the perfect location for a Destination Wedding, incredible venues with easy access.
With the summer season heating up, we were reminded of the scores of couples who choose our island for their destination weddings. For this reason, we drafted a Puerto Rico wedding guide: a compilation of all essential elements needed for an authentic Puerto Rican wedding. From legal requirements to timeless customs and traditions -- this article strives to make one of the most important events of your life even more memorable.
Puerto Rico Wedding Requirements
Puerto Rico recently updated its wedding requirements (2012), so please make sure you go down our list for a pain-free process: Medical certificate: before you even leave home, make sure you take all tests required for marriage back in your country/state of residency. Why? You will need to present a medical certificate, confirming the above, to the Puerto Rican Demographic Registry Office. If you come through San Juan, there's an office conveniently located inside Plaza Las Americas mall. However, if you are flying into Aguadilla, you will have to find an office on the West Coast. For a full list of locations, click here.
Non-residency affidavit: thankfully, you're able to get married in Puerto Rico even if you're not a resident. However, each non-resident must present an affidavit to the Demographic Registry, stating that A) He/she is not a resident of Puerto Rico and B) The purpose of the visit is for marriage and, if a foreign citizen, he/she will not stay on the island longer than the time period specified in the official entry documents issued by the appropriate U.S. federal agency. Furthermore, if the affidavit is issued in the U.S., it must include certificate of the corresponding state's county clerk. On the other hand, if it's issued in a foreign country/territory, it must be accompanied by the Apostille seal of the 1961 Hague Treaty. Government-issued photo ID: the Demographic Registry will also ask each of you to present an official photo ID from your place of residency. This can be either a driver's licence, passport or state ID. Non-US citizens, however, must present a valid foreign passport, U.S. visa and/or green card.
Puerto Rican Internal Revenue stamp: You'll also need to buy a USD $20.00 Internal Revenue Stamp from the Government of Puerto Rico, typically available at the Demographic Registry office itself. Birth certificates: you'll also need copies of both of your birth certificates (your names will be recorded on the marriage license as they appear on them, accordingly). Previous marriage(s) documents: if either of you has previously been married, you must submit proof of termination of that previous union(s) in order to celebrate your new wedding in Puerto Rico. If applicable, each of you must bring divorce decrees from each previous marriage and/or death certificate of previous spouse.
Obtaining your marriage license: once all above requirements are met and appropriate documents submitted, the Demographic Registry will issue and sign your marriage license --in addition to the marriage certificate you will present at the ceremony. *Please note: anyone under 21 years of age must be accompanied, and obtain the permission of, a parent in order to get married in Puerto Rico.
Puerto Rican wedding traditions and other ideas
The bouquets: Why spend thousands of dollars at a florist, when you could take a day trip to one of our beautiful rural towns and create your own bouquets? Traditionally, the Puerto Rican bride's bouquet is made of amapolas, flamboyán flowers, and/or margaritas -- all readily available in the wild. Moreover, Puerto Rico has over 50 native orchid species, so orchids are quite popular as well. Wedding favors: The use of "capias" is, to this day, one of the most common Puerto Rican wedding traditions. These can be easily handmade by picking up some seashells at the beach, then crossing & gluing a ribbon around it -- writing the names of the bride and groom on each side, plus the date of the ceremony. These are particularly close to my heart, as mom's living room is full of capias from different weddings and birthdays attended throughout the years. They are traditionally placed alongside family photos of the event. The catering: Puerto Rican food is certainly the easiest wedding tradition to implement. Just incorporate mofongo (mashed plantains), arroz con gandules (yellow rice and peas), pernil asado (roasted pork); in addition to some traditional appetizers such as alcapurrias (plantain or cassava "torpedoes" filled with seafood or beef), pinchos (Puerto Rican kebabs made of fried plantains and BBQ chicken or pork) or bacalaitos (thin, crispy cod fritters). The first dance: Traditionally, a Puerto Rican waltz ó "danza criolla" is chosen. Look up "La Borinqueña" for an example of what they sound like, watch YouTube Video showcasing Graciela Rivera singing the song. Very beautiful, authentic, and romantic.
Have comments on Destination Weddings in Puerto Rico? Let us know on Facebook, Twitter, Google+ or Pinterest!
Maria Alexandra Laborde has lived, studied and traveled extensively throughout Puerto Rico, the Middle East & North Africa. She shares her knowledge and love for the Arab world through stories, travel guides, and photo essays on her niche blog Travel The Middle East. Also, Maria is the author of LatinAbroad: Cultural Travel Blog, where she shares cultural experiences and advice after learning four languages, living in and traveling to more than 20 countries across 5 continents. Follow her on Google+, Facebook, Instagram and Pinterest!
Photo Credits: Puerto Rico Beach Wedding - madhatrk, Flickr, CC Flicker / Puerto Rico Beach Wedding Arch - José Zayas, CC Flickr / Puerto Rico Wedding Appetizers - madhatrk, Flickr / Remaining photos - WedAffair
Written by:
Alfredo Hannibal
PUBLISHED: Jun 9th 2017