Piñones: The rhythms and flavors of Puerto Rico
Adventure
Just east of San Juan dive right into the local culture, miles of great beaches and food!
Piñones is located approximately 10 miles away from Old San Juan on route 187, in the outskirts of Carolina is steeped with traditions handed down from Puerto Rico's African heritage. As a result of this diverse history, the area is synonymous with a rich culinary history and Caribbean authenticity that continues today. At the weekend Piñones is predominantly a local destination for family days out and getting in some serious beach time – to fit in like a true local you will need to bring along your ice chest full of cold Medalla beer and deckchairs or hammocks as you'll be settling in here for the day.
Piñones means 'pine forest' and the terrain here is mainly made up of mangrove swamps and saltwater lagoons surrounded by pristine beaches. With a single track road that runs in and out of Piñones, this isn't somewhere that you will get lost, but be warned that parking and traffic can become a problem as the day wears on, so aim to get here early.
Like most of Puerto Rico, Piñones is abundant in wildlife, particularly vibrantly coloured birds and iguanas, the latter is very evident for the not so lucky ones, with surplus reptile road kill in these areas it is important to drive with care.
When you first cross the bridge into Piñones you will immediately be aware that the vibe is much more laid back and ramshackle than San Juan proper.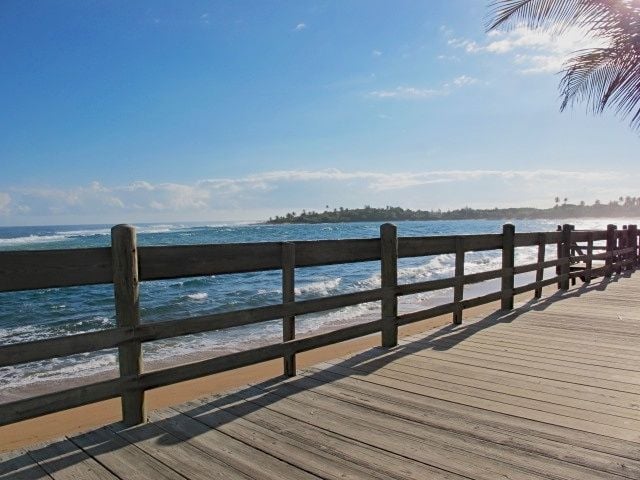 There are many restaurants to choose from, but knowing how to pick the right one is very important. Restaurants such as the large 'Soleil' facing the beach are better for large parties, who want to drink and fill up fast, but if you want a real taste of Pinones, dare to drive further in.  
If you are a fan of fish, then there is no better place to try the catch of the day than Restaurante Andín, a family run business specializing in fresh and authentic seafood. But since it's a bit off the beaten track, you'll have to work for your food – by trying to locate it, no worries though just ask one of the locals.
Take a right turn next to the basketball court and continue down the single track road into a residential area. At the end the road opens up to face the river and right there is a wooden cabin, painted green, where locals queue up to order through the window – a regular rustic drive-thru. Right there you will see your Red Snapper grilled in front of your eyes, having been caught on an early morning boat trip.
If you do not fancy using your navigational skills quite so much, then the best option by far is El Boricua. Complete with a Puerto Rican flag, it's most noticeable feature is the constant queue of people tailing out into the road waiting for their turn to sample the delicacies, but it is worth the wait as the long queue is simply indicative of the magic formula that Boricua has - high quality food and cheap prices.
Serving up delicious and freshly cooked snacks grilled over an open fire, there is a constant woody, smoky scent in the air, unlike anywhere else on the island. The menu includes a wide variety of Puerto Rican dishes, but for the best sample menu pick the Bacalaitos – a flat cod fritter and Crab Alcapurria. Over to the side, grab a coconut, expertly opened with a machete to reveal the deep pools of fragrant coconut water hidden inside.
If you decide your stomach won't let you commit to the El Boricua queue then there Dos Palmas, further along, is certainly a contender for second best. Just follow one piece of golden information when picking your lunch spot in Piñones– be aware of the heat lamp. If the food is having to be kept warm then just think – that is because no one else wants to come and eat it.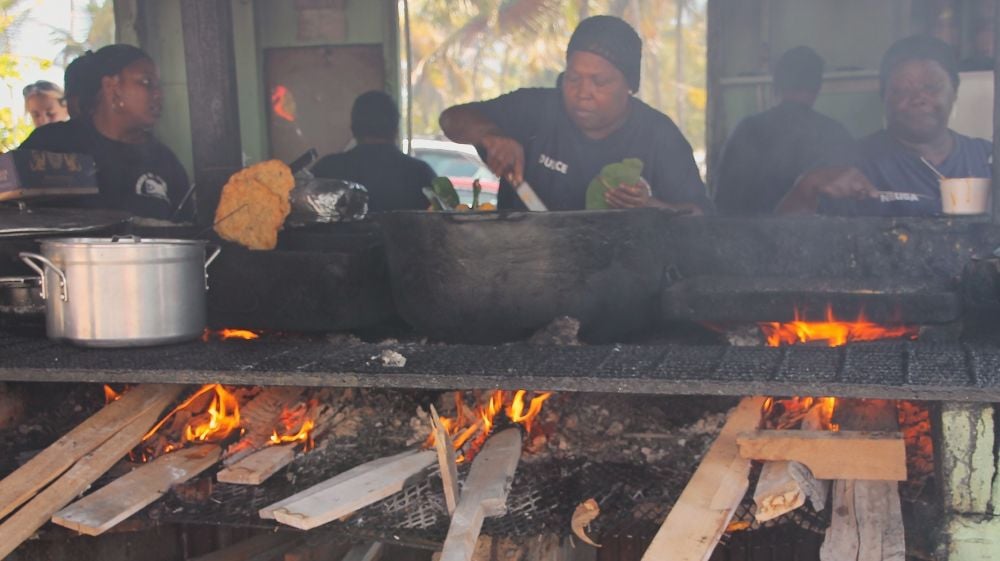 Once you have filled up, you will next be thinking about the beach.
The beach opposite El Boricua is known locally as Aviones because of the airplanes that pass overhead when they are leaving San Juan International Airport. You can even tell their destination based on the angle they leave - left is America and right is Europe. If you drive further along from Aviones then there are several other beaches, each with their own features.
The second beach you will come to is ideal for families with small children, because of its' rock pool formation meaning waves are minimal, but also most hectic for parking.
If you decide to drive along even further then be warned that after this point the water becomes much deeper and the undercurrent and tides become more unpredictable. Beaches further along are better suited for jet skiers and sun worshippers.
The road through Piñones is also a popular cycling route, and hundreds of professional, lycra-wearing, cyclists pass by when we are eating lunch, but do not be intimidated if you are more of a novice cyclist. There is also a newly-built-boardwalk hidden among the secluded mangrove forest, perfect for getting away from the fast moving traffic and seeing more of the wildlife on offer. Bikes are available for rent for as little as $5 per hour, per person.
So if you are looking to step off the tourist trial then Piñones is a great example of Caribbean lifestyle, this is about families, good food and spending time on the beach, which Puerto Ricans have made into an art form. Situated close enough to San Juan and the cruise ships to make this a day trip, it is a must do for all who visit the island.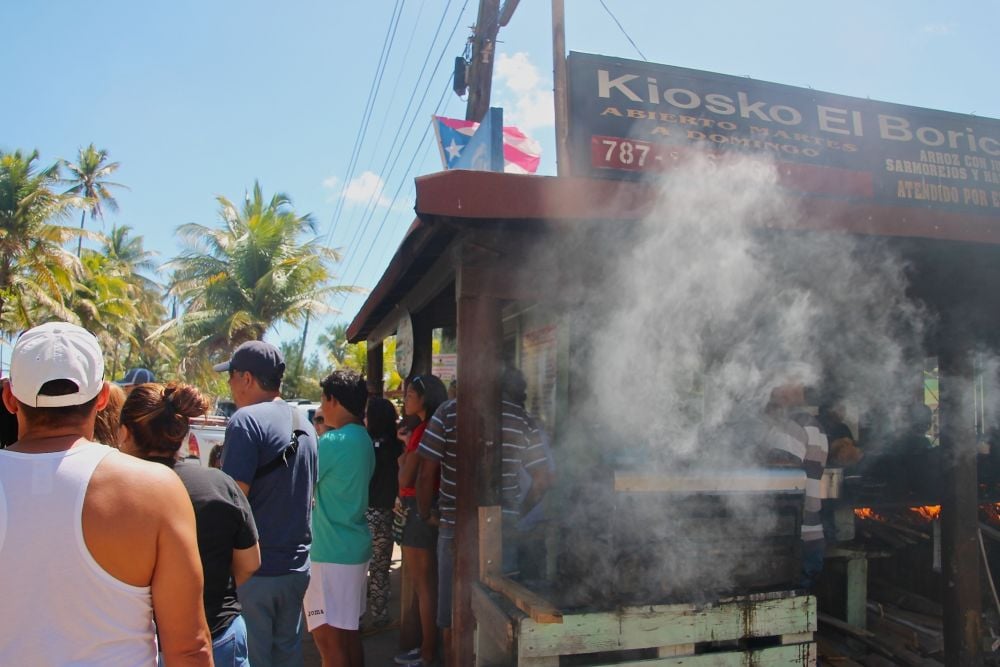 About the Author: Sophie Gallagher is a qualified journalist, having trained in the seaside town of Brighton, England before moving to San Juan, the capital of Puerto Rico. Sophie has experience working at My Guide Head Office in London and now contributes articles to the Puerto Rico franchise. She has also had work published by The Daily Express, Very Magazine, The Editeur and The Argus.