Nightlife in San Juan
Adventure
From Salsa to Tango the San Juan Metro Area offers partygoers the best variety of nightlife options.
Our Top Experiences and Tours in Puerto Rico:
If youʻre booking your trip to Puerto Rico last minute, we have you covered. Below are some of the top tours and experiences!

 

Named the city with the most beautiful people according to Travel + Leisure, San Juan boasts a hot party scene.  Throughout Old San Juan, Condado, Santurce and Isla Verde, lounges, bars and clubs offer partygoers a variety of nightlife options. 

Let's begin with the music that embodies the island of Puerto Rico – Salsa!  As a local, you are introduced to the rhythms of salsa at a young age.  The music is played at almost every family activity and people of all ages jump up to dance.  My recommendation for live salsa music is Aché, a bohemian bar located in the artsy district of Santurce.  Aché* opened its doors in December 2011 with the purpose of promoting Puerto Rico's Afro-Caribbean roots.  From Thursday to Saturday evening, head to Aché for the live sounds of salsa, rumba, bomba and plena by Puerto Rico's local artists.  The dance floor is spacious, the people are friendly and the drinks are affordable. 

San Juan meets Brooklyn in this hipster craft beer bar in Old San Juan.  La Taberna Lúpulo located on 151 Calle San Sebastían offers 50 international craft beers on tap and over 100 bottled selections.  They don't serve commercialized 'macro' beers or beers that they don't see up to their standards.  The crowd is young and hip, the bartenders are very knowledge about their products, the pub food is fantastic and they open every night of the week.  When Old San Juan seems dead on a Monday, there is always a crowd at La Taberna Lúpulo.  What's not to love!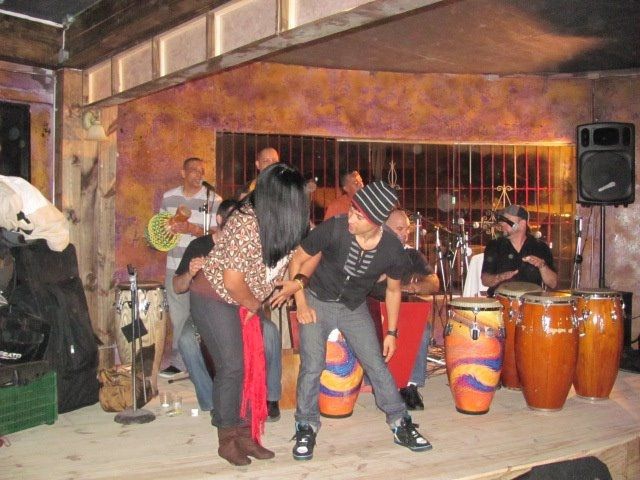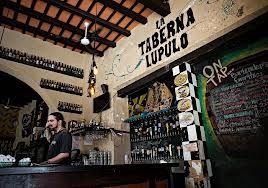 Retro and modern come together in Santurce's underground music and arts venue, La Respuesta.  It is one of the many cool exhibition spaces in this upcoming design and arts district that is rivaling Old San Juan.  Local indie bands, hip hop artists, Latin Jazz musicians, heavy metal bands and more can be seen on the stage at La Respuesta.  Check out their website for upcoming shows and events: larespuestapr.com
For a trendy and posh, rooftop experience, head to Mist located at the newly renovated San Juan Water Beach Club Hotel in Isla Verde.  MIST takes full advantage of its outdoor rooftop location delivering spectacular, nearly 360-degree views of San Juan and the Atlantic Ocean.  With an inviting ambiance and a relaxing, contemporary design, tourists and locals alike can mingle and enjoy handcrafted cocktails alongside a unique Island-Italian-Spanish 'socializers' menu.  Whether you come with friends or alone don't miss your chance to mingle at the hottest rooftop lounge in San Juan. 
I'm sure many of you have wondered why you can't drink on the street in Puerto Rico.  I mean, you are on vacation and this is the tropics, right?  Well, I have the perfect spot for you! La Placita de Santurce, also located in the artsy, non-touristy zone of San Juan is a marketplace by day and party place by night.  Bars that serve $5 mixed drinks and $1 local beers surround the 100-year old marketplace.  Grab a drink at El Coco de Luis and walk around La Placita chatting up the locals who come here for happy hour and stay late into the evening.  On weekends, several bars have live salsa bands and the locals begin dancing in the street.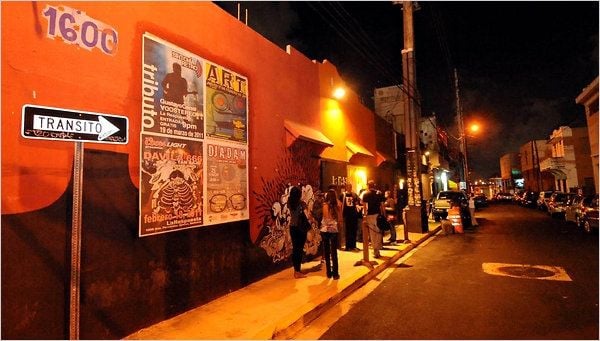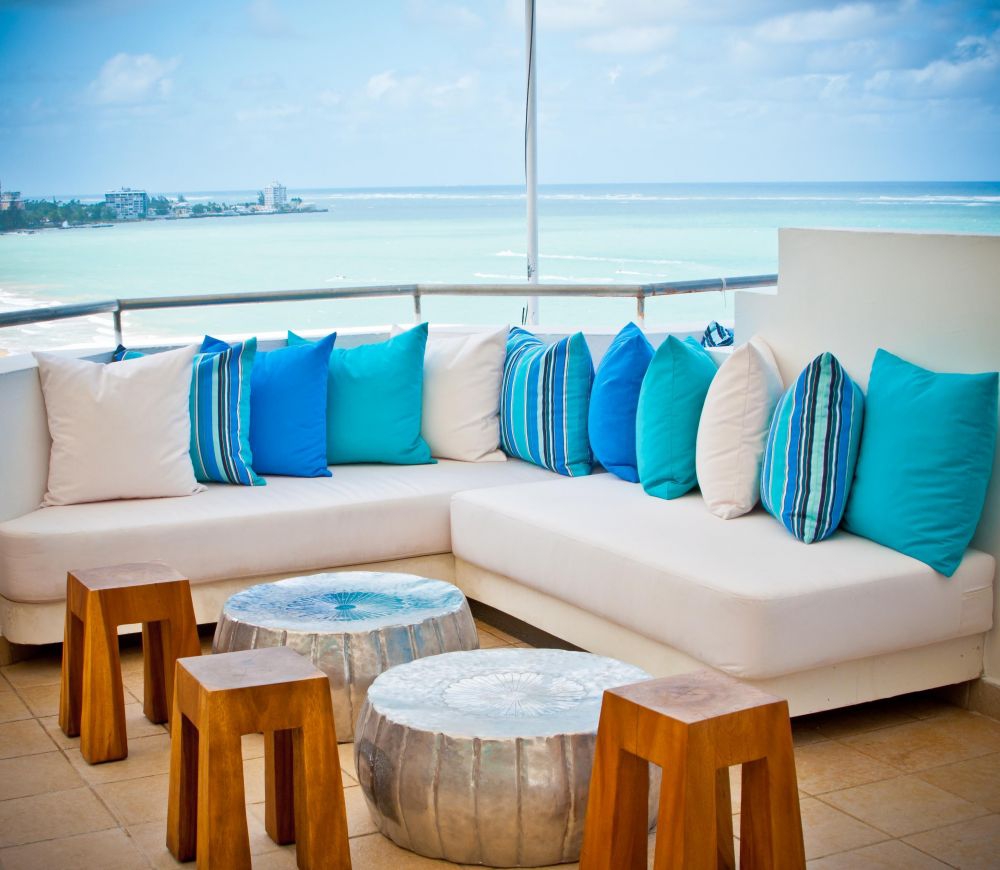 Hidden in La Placita, lies Santaella, Puerto Rico's premier dining establishment with a menu headed by world-renowned chef José Santaella.  Yes, the menu is phenomenal (do try it) but I suggest visiting Santaella for the cocktails.  Sit at the bar and bump elbows with actors, artists and the who's who of Puerto Rican society.  Do you fancy rum, vodka, whiskey, tequila or any other spirit?  Order from their carefully crafted menu or chat with the bartender for a custom-made cocktail.  Lavender, bitters, elderflower liqueur and more could be added to your beverage.  One of my favorites is the Perfect Lady.  Salud!
Tucked away on the beach in Isla Verde, Café la Plage is a unique and exotic beachfront lounge and restaurant.  The chic décor is reminiscent of South beach with a touch of Barcelona that incorporates tiki torches, private dining tables and beautifully linen-draped cabana beds set on the sand.  Reserve the beds along with your private waiter for a sensual, relaxing, Riviera-type experience.  On the weekends, this outdoor beach club and lounge draws in a local crowd looking to dance under the stars to music spun by international house DJs.  On Sundays, they host a great beach party.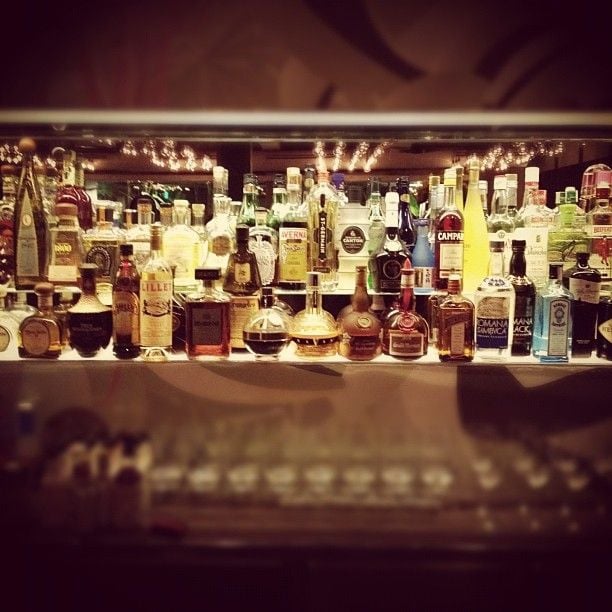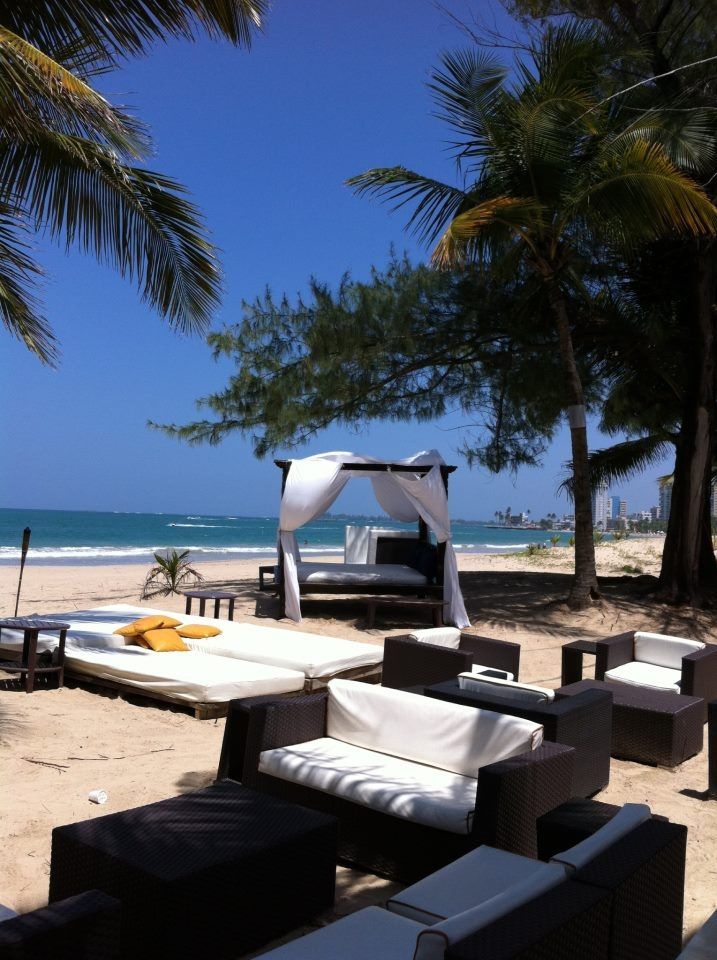 On Calle Loíza, walking distance from the hotels in Condado, The Plan B attracts a large local crowd.   It is a pub-style bar that is frequented by young professionals in their 20s and 30s.  The drinks are inexpensive and they have live music, mostly cover bands.  The place gets pretty crowded on the weekends so be prepared to wait for drinks. 
For all you looking to dance into the wee hours of the morning, my recommendation is La Piazza Lounge at the second level of Di Zucchero in Condado.  The crowd is older and more sophisticated than Club Brava located in Isla Verde.  La Piazza Lounge is a favorite among local celebrities, models, designers and fashionistas who come here to escape the public eye.  La Piazza maintains a high level of exclusivity so dress to impress.
*My Guide Puerto Rico Note: Unfortunately Aché has closed its doors.
 
Paulina Salach is a writer, food critic, cultural guide, event producer and entrepreneur. She is the co-founder and organizer of Puerto Rico Restaurant Week™ and owner of Spün Food Tours . Contact info: paulina.salach@gmail.com