Vieques, Puerto Rico in 24 Hours
Adventure
Located only 8 miles off the east coast of Puerto Rico.
Located only 8 miles off the east coast of Puerto Rico, Vieques Island has seen tourists for some time now, particularly domestic. However, following the exit of the U.S. Navy in 2003 and high publicity in the past few years, the island's laid-back atmosphere has started to morph. The W Retreat and Spa Hotel recently opened in 2011 and other chains are likely to follow suit. Moreover, in 2012, it was named the # 1 "Top Island in the Caribbean, Bermuda, and the Bahamas" by Travel + Leisure.
Last time I visited Vieques was back in 2009. I remember renting a JEEP upon arrival to the island without a reservation, picking up a map, and going on a self-guided beach-hopping tour ($55 for one-day scooter rental). After several gorgeous spots, my group settled for Blue Beach: We had it all to ourselves for hours. This, however, was a completely different story when I went back on July 2012.
First, we could not find a car after calling about 5 different companies (entire fleets "sold out," ended up renting the last scooter available at Maritza's). Second, many of my favorite beaches were now popular with tourists, who had pre-booked their 2012 JEEP Wrangler's months in advance. Third, some of my favorite local eateries had been replaced by expat joints. While these were not necessarily bad occurrences, I had to explore my "unspoiled Vieques" in a different way.
After renting our scooter, a great American breakfast was had at Belly Buttons. Being the only place we found open around 8 AM in Esperanza, it was a natural choice. Mimosas, however, had a high tourist price tag. Needless to say, the next day our breakfast was DonQ, orange juice, a fresh pound of the local sweet bread (pan sobao), and cheese from a mini market found en-route to the airport (outside Esperanza).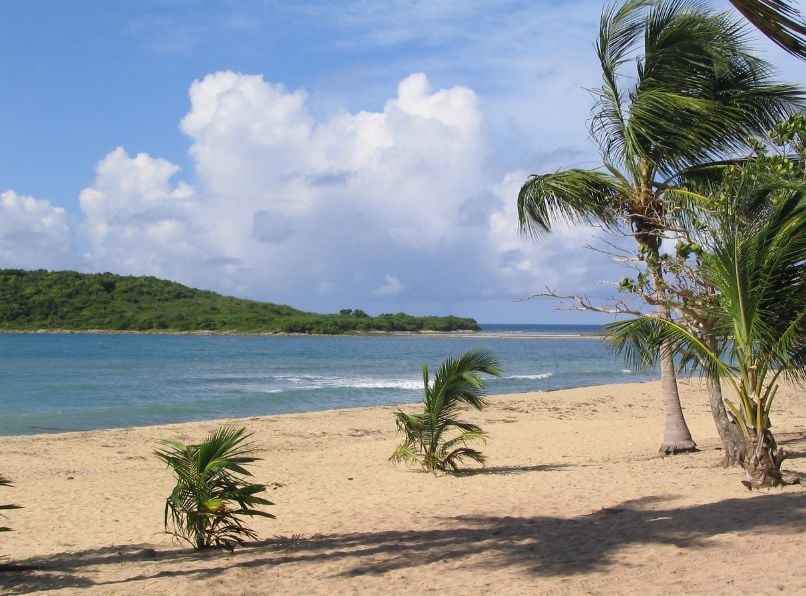 After breakfast, we hit the famous Green Store for cheap alcohol and supplies before heading out on our self-guided beach-hopping tour. Soon, we discovered that Sun Bay and Blue Beach are not deserted spots anymore. That's when we remembered part of the Vieques crash course by our host Jose from Acacia Guesthouse : "For more privacy, head down the rough path toward Playuela (Garcia Beach)." Turn at the road sign that says "Playa Caracas" (known as Red Beach), take the second right after half a mile, then finally turn on your first left. You will be greeted by a sign that says no vehicles allowed. From there, it is about a 10-minute walk through mangroves and puddles (if you go after a storm, like we did). Even though Playuela is a well-known beach, it is difficult to reach--turning many visitors away. Also, it can boast some waves on windy days, making it a spot for bodysurfers.
Next up was Pata Prieta (Secret Beach), also part of my Vieques Best Beaches list . Not so secret anymore, it sees some visitors, but not as many as its neighbor Playa Caracas, whose parking lot was packed the weekend we visited. Also, unlike Playuela, Pata Prieta is "como un plato" ("like a plate" in Puerto Rican slang), meaning that it is a protected cove with no waves at all. Great family beach in case you wish to escape the crowds of Sun Bay and Playa Caracas. Moreover, it is a good spot for snorkeling. 
After hitting more than four beaches, we were ready for lunch. The most popular spot at this time of the day is the food truck Sol Food, as it is located at the entrance of the wildlife refuge: Intersection that links the main road to several beaches. Interestingly, the joint is owned by 2 northeasterners, who moved from the U.S. after falling in love with the island. The menu is comprised of empanadas, sandwiches, wraps, and three types of carnitas (including tofu!). Slightly pricey for Puerto Rico, but portions are plentiful and quality is right.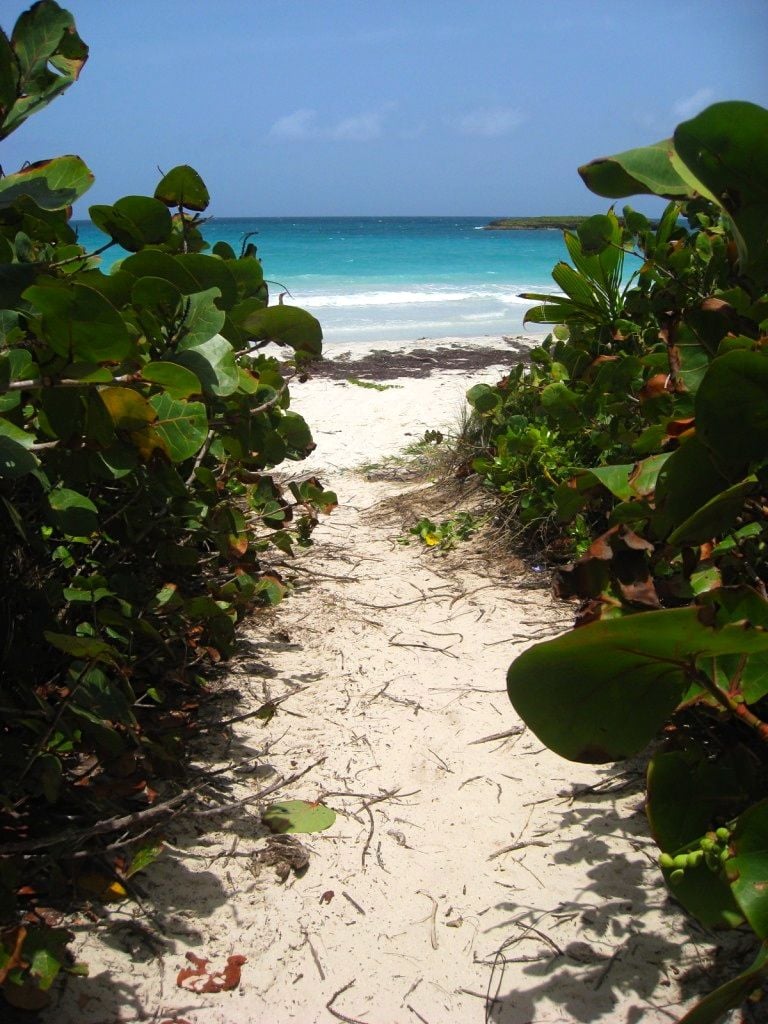 After hitting one more beach, our bodies asked for an afternoon siesta. We head back to our guesthouse, showered, and slept until it was time for the next adventure: Dining out. Come prepared to dish out the dough, by the way. Most eateries by the malecón in Esperanza are upscale dining establishments nowadays. And while excellent lobster and shrimp mofongo was had at El Quenepo ($34), some appetizers and the service were below par. In fact, our waitress left mid specials in order to "help" other staff members with a bigger party. Clearly, its price tag didn't match the advertised five-star experience. From reading other reviews, this is commonplace at similar restaurants in the area. Next time, we will have to scour the town deeper in order to find an establishment that is worth its weight in gold.
After a 2-hour dinner, it was timeto pay a visit to the Bioluminescent Bay (Mosquito Bay): A must when visiting Vieques. The experience is magical, making these tours wildly popular (advance booking essential).Another piece of advice? Plan your trip around the lunar calendar in order to ensure good viewing conditions.
In short, Vieques Island is not the budget-friendly destination it once was--tourist prices are now ubiquitous. Yet, it still distinguishes itself from its overdeveloped neighbors. It is recommended that backpackers take some supplies with them (a cooler with drinks and food) and buy tickets for the first ferry in, last ferry out of Vieques. This way, they will have a full day to enjoy most of the beautiful spots without breaking the bank. For the BioBay, a boat tour may be booked out of Fajardo without having to stay overnight in Vieques. On the other hand, if budget is not an issue, there are a variety of options to enjoy Vieques. But remember: Not all of them are worth their price tag, so make sure you read plenty of reviews before choosing where to stay, eat, and play in Vieques Island .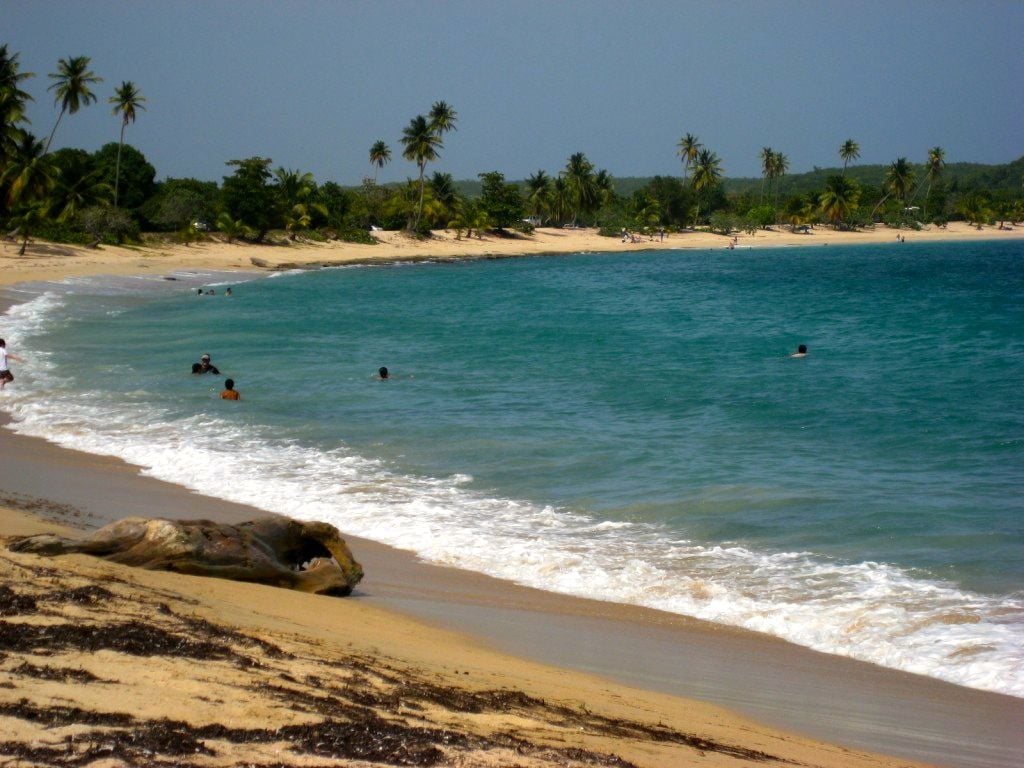 ??
Maria Alexandra Laborde has lived, studied and traveled extensively throughout Puerto Rico, the Middle East & North Africa. She shares her knowledge and love for the Arab world through stories, travel guides, and photo essays on her niche blog Travel The Middle East. Also, Maria is the author of LatinAbroad: Cultural Travel Blog, where she shares cultural encounters and advice after traveling to more than 20 countries across 4 continents. Follow her on Google+, Facebook and Pinterest!
Sources
Main Image Photo: iStockPhoto
Garcia and Secret Beach Photos: Maria Alexandra Laborde