The Specialty Coffee Shops of Old San Juan
Food & Drink
Specialty Coffee Shops in Old San Juan are serving some of the best coffee in the world!
If you are on vacation in San Juan, Puerto Rico and love a good cup of coffee, then you will want to find a place to put your flip-flops up and read this article right away. Since the time the Arabica coffee seeds first arrived in the early eighteenth Century, Puerto Rican coffee has gained a reputation of being amongst the best in the world, exported to Popes and Kings.
Soon after the Spanish-American War the interest in coffee cultivation and production began to fade but the Puerto Ricans love for this delicious brew did not. Nowadays a high percentage of the commercial coffee sold in Puerto Rico is from imported beans, a necessity to meet demand.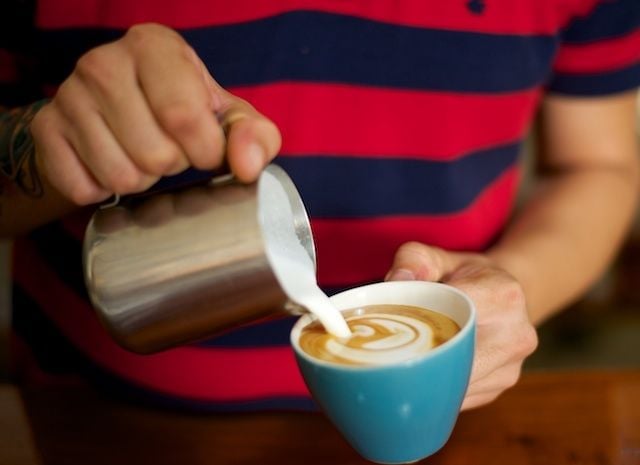 Specialty Coffee
As mentioned above most of the coffee sold in Puerto Rico is classified as commercial coffee. According to Erica Reyes founder of the Puerto Rico Barista and Coffee School and owner of Café Cola'o in Old San Juan, between 5 and 10% of coffee produced in Puerto Rico is classified as Specialty Coffee. To be designated as such, the coffee must achieve an overall cupping rating of 80+ points. Other important factors according to Ms. Reyes are quality control, the types of coffee trees, humidity, altitude, rainfall and roasting process.
All this brings us to the main topic of this article, the Specialty Coffee Shops in Old San Juan, Puerto Rico. They are a blessing for all of us looking for a truly spectacular cup of specialty coffee. If you are in Old San Juan you must try a cup or two at any one of the establishments listed below. Many of these shops produce coffee from "Farm to Cup," a brew that is unique to them as they follow strict quality controls in the harvesting, selecting, roasting and then brewing of their product. Following the success of Starbucks in Puerto Rico, which by the way is a commercial not specialty coffee, specialty coffee shops have sprung up all over Old San Juan. So leave your Puerto Rico Hotel and enjoy one or more of the following establishments.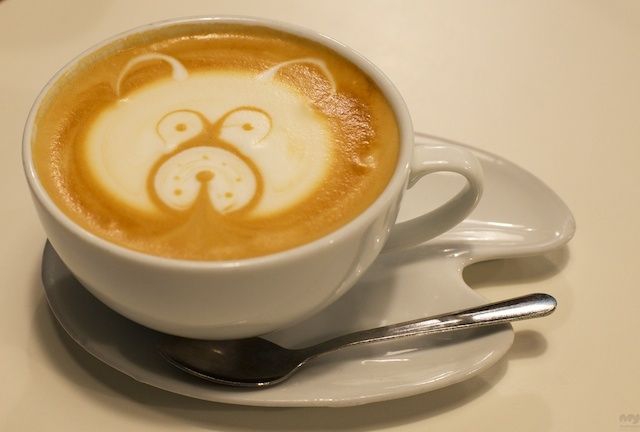 Coffee Shops in Old San Juan
Café Cola'o - Pier 2 (Port Terminal) Old San Juan. Established in 2006 this was the first Specialty Coffee Shop in the area and the trendsetter, serving an excellent cup of Joe. Unlike other specialty shops, Café Cola'o offers its customers a selection of beans to choose from. There is Gran Batey a bean that achieved the highest cupping rating for the 2012 harvest. Their Aroma del Campo bean was awarded fourth place. Grano 20 is a larger bean from the mountains of Adjuntas with a strong yet sweet flavor. They also serve a "peaberry" Caracolillo from Utuado and finally a house blend from Utuado and Maricao that is the only commercial coffee served. The Puerto Rican countryside themed shop also serves juices, pastries and other items. Open Daily: Monday - Friday 6am to 6pm, Saturday - Sunday 9am - 7pm www.prcafecolao.com
Café Finca Cialitos "Expresso Art" - 267 San Francisco Street, Old San Juan. Owned by Joaquín Pastor González a Certified Coffee Grower, and Master Cupper that has run his family coffee farm in Ciales since 1998. This in our opinion is one of the best coffees in Puerto Rico, a clean, gentle taste of chocolate and dried fruit with no lingering aftertaste. This is a true "Farm to Cup" operations with the beans hand selected and then roasted on premises. Café Finca Cialitos coffee won second place in the Cup of Excellence Award at the 2010 Puerto Rico Coffee Fair and was the coffee used by the winner of the 2009 Barista competition. This comfortable rustic shop in Old San Juan is decorated with items from the owners farm in Ciales resembling a comfortable living room. The shop serves many other items (pastries etc,) to complement your cup. Open Tuesday - Friday 8am to 4:30pm, Saturday 9am to 5pm, Sunday 10am to 5pm. www.fincacialitos.com
Café Don Ruiz - Cuartel Ballajá, Old San Juan. Owner Abimael Ruiz serves an excellent smooth coffee from Barrio Rubia in the town of Yauco. With an overall rating of 90.0 this specialty coffee is deeply layered, balanced with a taste of cedar, almond cocoaish dark chocolate, apple with a slight savory edge. This is another "Farm to Cup" shop but currently the beans are being roasted on the farm and brought to the shop for brewing. There is a beautiful new roasting machine on premises that has yet to be made operational. Opened in February of 2013, this shop is located below the Museum of the Americas in Old San Juan and will eventually offer classes on the coffee roasting process as well as house a coffee museum. The head Barista Josue Sanjurjo is very knowledgeable and serves a mean cup of coffee. Along with coffee the shop serves sandwiches, pastries, crepes and a variety of drinks.Open Tuesday - Thursday 8:30am to 4:30pm, Friday 8:30am to 7:30pm, Saturday 7:30am - 7:30pm and Sunday 11am to 5:30pm. www.cafedonruiz.com
Café Poético - 203 Cruz Street, Old San Juan. Located across the street from Plaza de Armas, Café Poético has been serving up its exclusive Café San Pedro from the town of Jayuya since 2011. The coffee is very good and prepared by knowledgeable baristas in an atmosphere conducive to drinking a good cup of coffee. The Café sells quiches, wraps, and salads all freshly prepared on the premises along with their many specialty coffee drinks. A unique touch to this café is the Poets Night and Music Night on Tuesday and Thursday respectively. Both events are open mike and attract a wide array of local talent. They also serve wines, beers and basic hard liquor drinks. Open Monday to Sunday 9am to 7pm, Tuesday 9am - 11pm, Thursday 9am - 10pm
Café Cuatro Sombras - 259 Recinto Sur Street, Old San Juan. Owned by Pablo Muñoz a descendent of the original founder of Hacienda Santa Clara in Yauco, Puerto Rico and Mariana Suarez. Cuatro Sombras which means four shadows derives its name from the four types of shade trees used to shield the coffee orchard. The shop in Old San Juan serves single source 100% arabica beans. Another "Farm to Cup" operation that ensures the highest quality specialty coffee. The coffee served by talented baristas is medium bodied with notes of semisweet chocolate, caramel and spices. A wonderful coffee with a clean cup. Cuatro Sombras also serves sandwiches, panini's, muffins, croissants and juices. Open Monday - Friday 8am to 7pm, Saturday - Sunday 8am - 8pm www.cuatrosombras.com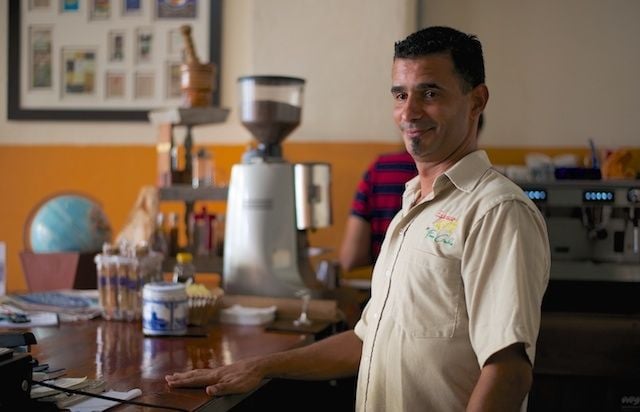 PR Tea - 153 Cruz Street, Old San Juan. Opened in February of 2013, PR Tea brings a different idea to the Specialty Coffee scene in Old San Juan. The shop offers coffee from Adjuntas and according to Head Barista Artemio Rivera it is specially roasted at 445° F to achieve a unique creaminess. What is the different idea? You might ask, well they have coffee that is blended with different teas and then brewed and served like a regular latte. One example is a Rooibos Chai and coffee blend that was extremely good. PR Tea is a large inviting shop that can cater to private events, they can provide personalized tea boxes for the group. A giant screen provides the ability for them to host movie nights and other types of activities. Open every day from 8:30am - 10:30pm. www.prteaco.com UPDATE: PR TEA HAS CLOSED

?

 
Bad Ass Coffee - 202 San Francisco Street, Old San Juan. Speaking of different ideas, one of the newest members of the Specialty Coffee club in Old San Juan is brewing coffee from Hawaii. Although it can technically be considered as commercial coffee, the 100% Kona Coffee served at Bad Ass is very good. Opened in April of 2013 this franchise also exclusively serves a specialty coffee from Hacienda Las Nubes in Adjuntas. The store also sells signature lattes, smoothies, teas, breakfast, light meals and Bad Ass Coffee related items and souvenirs. If you are wondering where the name Bad Ass Coffee comes from, well, according to the manager Sol, the name comes from the donkey's that would bring the picked coffee down from the mountains in Hawaii, they were "Bad Ass" donkeys. Open Monday - Friday 8am to 7pm, Saturday - Sunday 9am to 7pm. Bad Ass Coffee on Facebook
Caficultura - 401 San Francisco Street, Old San Juan. Billed as an espresso bar featuring "Farm to Table" Cuisine, Caficultura was one of the first specialty coffee shops in Old San Juan. The baristas serve an excellent cup of coffee that you can enjoy with items from a surprisingly good menu. Some will say that the best breakfast in Old San Juan can be found at Caficultura, try the coconut French toast and you will agree. For lunch there is an excellent array of gourmet sandwiches available with many vegetarian options available. The shop is also opened from dinner with outdoor seating available. Open daily.
Growth Continues 
Hacienda Isabel is another coffee shop slated to open soon in Old San Juan. What is fueling this mini-boom in coffee shops in and around Old San Juan? Well, for one its in the culture, Puerto Ricans love coffee and this resurgence has been almost inevitable. Also, interest in coffee and baristas partially fueled by the success of Starbucks has created a demand for more knowledge a coffee and the process of creating a good specialty cup. According to Erica Reyes this thirst for knowledge has led to the establishment of the Puerto Rico Coffee and Barista School. 
So if you are looking for a truly great cortadito (espresso with just a drop of steamed milk) or café con leche (espresso with plenty of steamed milk), you cannot go wrong at any of the above mentioned establishments. Even though if you ask a native Puerto Rican many will say that you can find a truly exceptional cup of coffee at any of the hundreds of panaderias (small bakeries) around the island.
Enjoy!

View Specialty Coffee Shops in Old San Juan in a larger map