Quirky Frozen Desserts in Caguas
Food & Drink
The delicious variety of flavor combinations alone will make it well worth the trip to Caguas
It was a hot, humid day in Puerto Rico—the perfect time to go for a refreshment in my hometown Caguas. We were anxious to visit a unique artisan ice cream parlor that's been creating quite a buzz in the past year: Jendys Heladeria Artesanal.
 
Quirky frozen desserts near the capital
It used to be that tourists looking for unique places to visit in Puerto Rico flocked to Heladeria Lares for their odd ice cream fix. While that might still be the case, visitors with less time on the island should opt to visit this Caguas joint instead: Jendys Ice Cream Parlor. A much easier 25-minute drive from San Juan, Jendys is like its older cousin in the Northeast, specializing in quirky flavors such as rice & beans, ripe plantains, and even beer.
Established in 2002, Jendys is the love child of Randy Rosario's affair with both ice cream and gelato. Not only did he learn how to make the frozen dessert at home, but he also traveled to South America in order to study the delicious craft of gelato making. It's not surprising to learn that his passion took him on an intricate journey of experimentation, having created over 300 different flavors to date!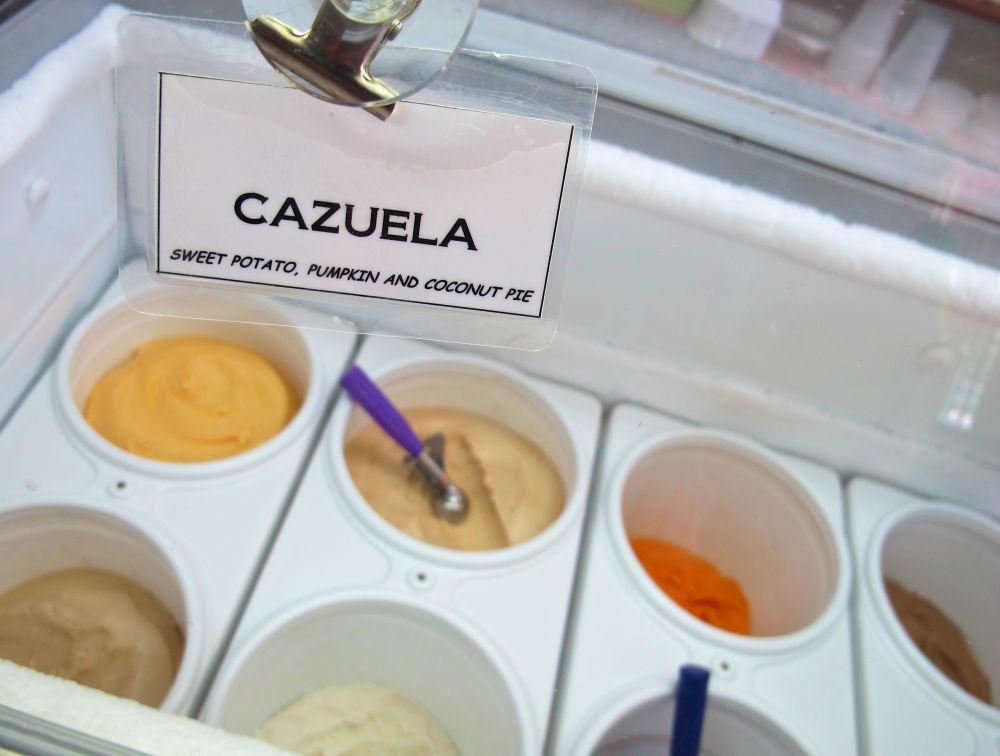 Behind Jendys Heladeria Artesanal quirky flavors (and texture)
Try to imagine the full flavor and composition of regular ice cream, mixed with the versatility of gelato—that's Randy's ice cream creation, the perfect marriage between the two. Another unique feature? None of the varieties contain cream or air. This makes for a denser, yet healthier frozen dessert.
With over 300 different flavors, it's natural that Jendys Heladeria Artesanal rotates its flavors. You will find lots of strawberry chocolate concoctions around Valentine's Day; while you may sample a great variety of traditional Puerto Rican desserts (such as tembleque & majarete) around Christmas. Since our visit was in the spring time, we found a mix of chocolate flavors and more refreshing, fruity offerings (such as acerola and tamarind).
Randy goes above and beyond when making original frozen desserts, however! He doesn't just stop at flavored ice. Jendys customers also get to enjoy a great variety of sugar-free options, in addition to waffle cones, cups, and even whipped cream made right on the premises. Yes, I said homemade whipped cream.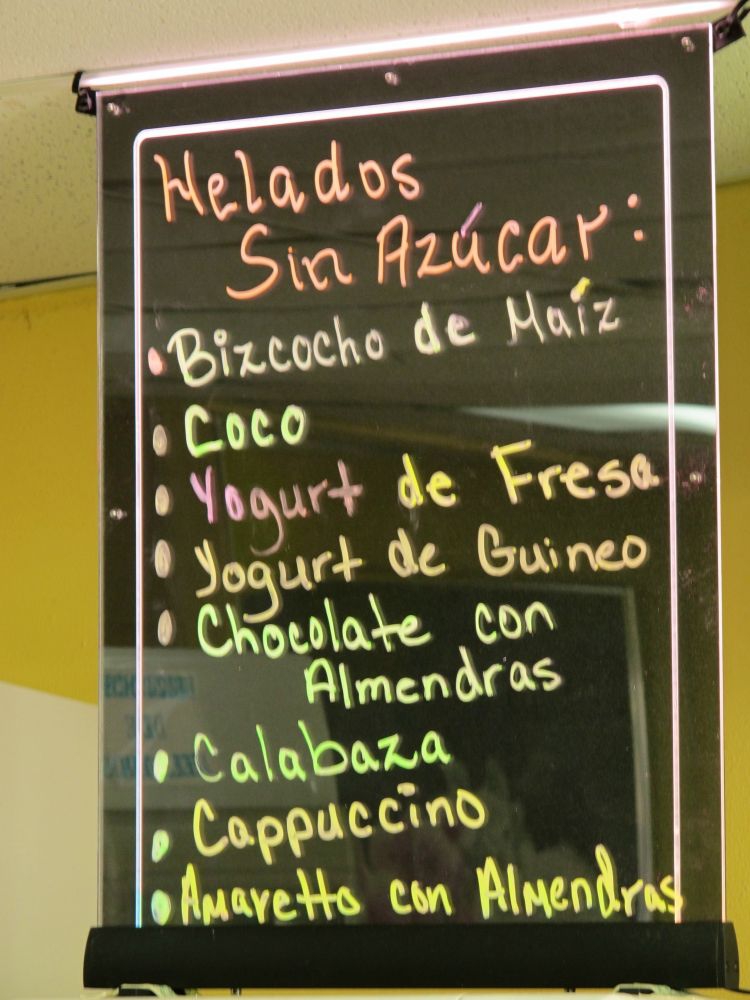 How to get there
From San Juan, take Highway 52 from San Juan to Caguas. Then, at the toll road of Caguas Norte, take exit 14 on your right (Caguas/Humacao), which takes you to Carr. # 1.
Right at the first light, take exit that takes you toward Humacao/Gurabo (Carr. # 30).
Once at Carr. 30, take first exit to the right (towards Sam's Club and Plaza Centro Mall).
Afterward, turn right at the 2nd light (you'll see a TOTAL gas station).
Finally, turn right at the first light. Jendys is located at the corner of a tiny strip mall.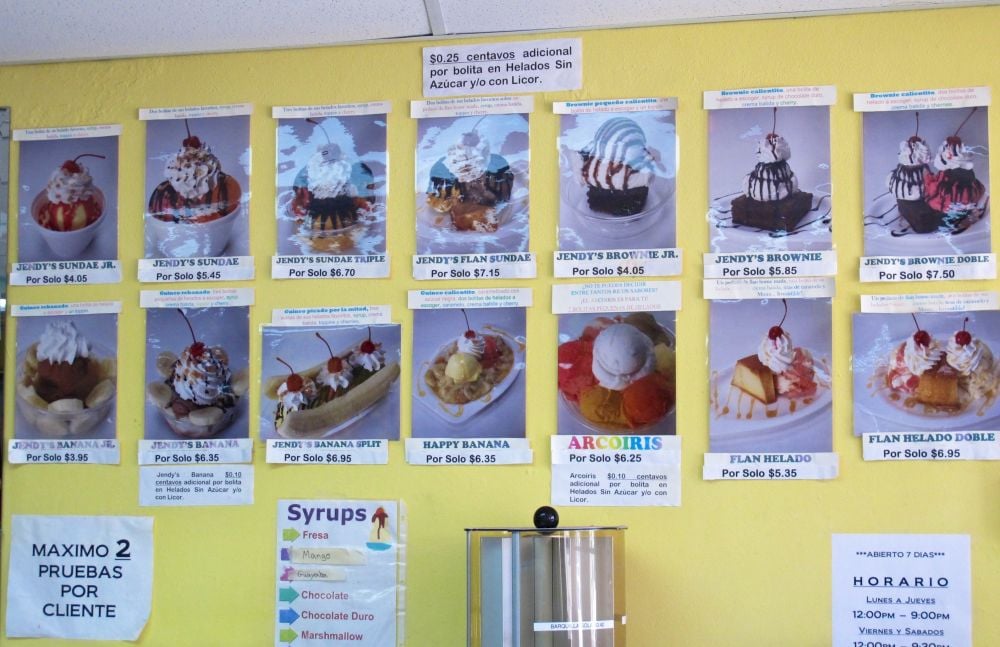 Have you been to Jendys or any other quirky ice cream parlor?
Randy Rodriguez, the owner of Jendys Heladeria Artesanal, was kind enough to provide us a complimentary waffle cup sundae. The visit, however, was not planned. As such, all (honest) opinions are my own. Additionally, since our group loved the ice cream parlor so much, we ordered (and paid for) the Arcoiris grand sundae and a small pint to go.
 
Maria Alexandra Laborde has lived, studied and traveled extensively throughout Puerto Rico, the Middle East & North Africa. She shares her knowledge and love for the Arab world through stories, travel guides, and photo essays on her niche blog Travel The Middle East. Also, Maria is the author of LatinAbroad: Cultural Travel Blog, where she shares cultural encounters and advice after traveling to more than 20 countries across 4 continents. Follow her on Google+, Facebook and Pinterest!