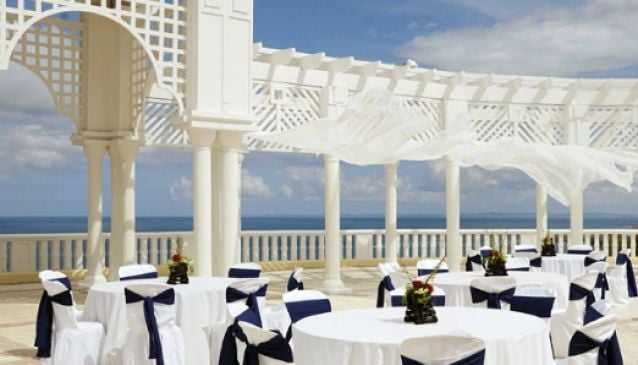 Puerto Rico Wedding Venues
Inspiration
Puerto Rico offers extraordinary Wedding Venues for every taste and budget.
So you have confirmed your Puerto Rican wedding, legal requirements & traditions you will incorporate into that very special day. Now what? Time to pick the right style, venue, and vendors! Below, we have compiled some of our favorite Puerto Rico wedding venues and sample packages, in order to give you ideas -- and the right tools -- to craft the day of your dreams.
Puerto Rico wedding venues & sample packages
No matter your budget, you can have a beautiful ceremony and reception literally anywhere in our island. Better yet, some hotel chains and family-owned paradores can bundle accommodation, ceremony decorations, and catering in one place, giving you a really good bang for your buck. Our favorites include:
Best BUDGET option: Tropical Inns Puerto Rico, various locations
Not only was Tropical Inns the very first group of Puerto Rico paradores to offer all-inclusive packages, but they also happen to be the only properties in the island to even have this type of bundles as an option. With several locations throughout the East Coast & Porta Del Sol (Yabucoa, Maunabo, and Guanica), they are perfect Puerto Rico wedding venues for those dreaming about a small, yet unique ceremony and reception.
Their restaurants offer a "Petite Budget for Wedding Celebrations" package which, for USD $18 per person, includes the following:
Reservation of restaurant area for 2 hours, including service and wedding ceremony
Plantain Soup or Tropical Salad as appetizer options
Main course, bread role & butter
One soda & one refill at dinner time, per person
Unlimited water
Add-ons to the above package include:
Assorted Fritters - $5 per person
Glass of House Wine or Alcoholic Drinks - $4 per drink
Tablecloths - variety of colors available - $6 each
Fabric napkins- variety of colors available- $1 each
Other wedding package details: Minimum of 20 guests; maximum capacity of 80 people, which varies depending on the parador of your choice. Available from Sunday through Friday (Friday until 4:00 PM). Free parking. 7% Sales taxes / 15% Service fee not included. Some restrictions apply.
Expert tips: if your wedding party can easily fit into 16 double hotel rooms, we highly recommend not only holding your wedding and reception, but also staying at our favorite parador of the chain, Costa Del Mar. Most rooms have balconies that afford spectacular views of both the Atlantic and Caribbean Sea -- plus a hint of Vieques island on a clear day. Sample rates include 2 all-inclusive nights, your room, for $379 based on double occupancy; $485 for triple; and $610 for quadruple.
Best MID-RANGE option: Villa Montana Beach resort, Isabela/Rincon
If you are looking for a full-service resort without the cookie-cutter chain feel, head to our unspoiled West Coast and book your Puerto Rico wedding venue at Villa Montana Beach Resort. This special property has commanding views of the azure blue ocean everywhere you look. Additionally, you could choose to hold your ceremony at a variety of different venues on-site: from their 3-mile beach and oceanfront gazebo to their Garden Ballroom or one of their 2 restaurants (Eclipse and "O")
Wedding package details: since Villa Montana offers extremely-customized wedding packages, it is recommended that you inquire within. Some of their advertised offerings include:
Puerto Rican, American or even Asian-fusion catering / menu options
Accommodation, wedding ceremony, cocktail, and wedding reception bundles
Bonfires on the beach, horseback riding, and other unique package add-ons
Wedding coordinators on-site
Expert tips: remember to book accommodation for all (or at least most) of your wedding guests at this property, as the prospect of booking most of their rooms should give you plenty of bargaining power when it comes to building -- and pricing -- your customized Puerto Rico wedding venue and package. Moreover, when booking flights, search AGUADILLA airport instead of San Juan Int'l, as this will save you and your guests the headache of a ~3-hour transfer (each way!). Airlines that fly there include Southwest, JetBlue, and Spirit.
Best HIGH-END option: El Conquistador (Waldorf-Astoria resort), Fajardo
If the word "majestic" is what comes to mind when looking for a Puerto Rico wedding venue, El Conquistador is our personal pick. Perched on a 300-foot bluff in the beautiful port city of Fajardo, this Waldorf-Astoria resort offers more than 13 different venues for your special day, no matter the size of your guest list. Some of our favorites include:
Palomino: 100-acre private island, which accommodates up to 1,400 guests
Trellises Terrace: stunning views and European decor, up to 400 guests
Marina Gardens: a more intimate setting for up to 80 guests
As you would expect from a 5-star brand, property amenities and wedding package customization options are endless. Some of the special touches include:
World-class cuisine; upgraded wines and champagne
Magnificent ice carving
Delectable Viennese tables
Old-world cordial service
Elegant table linens and chair coverings
Dedicated Honeymoon, Wedding Registries and catering managers
Expert tips: if you dream of a high-end wedding, but are looking for ways to lower costs, we suggest you shop around for local vendors instead of relying exclusively on the resort for planning your special day. Thankfully, El Conquistador allows "non-preferred" vendors on-site so long they are pre-approved by management. Please note though: if you decide to use an outside photographer or videographer, a USD $500 fee applies, per day.
Got other Puerto Rico wedding venues, package suggestions?
Let us know on Facebook, Twitter, Google+ or Pinterest!
Maria Alexandra Laborde has lived, studied and traveled extensively throughout Puerto Rico, the Middle East & North Africa. She shares her knowledge and love for the Arab world through stories, travel guides, and photo essays on her niche blog Travel The Middle East. Also, Maria is the author of LatinAbroad: Cultural Travel Blog, where she shares cultural experiences and advice after living in and traveling to more than 20 countries across 5 continents. Follow her on Google+, Facebook, Instagram and Pinterest!
Photo Credits: Trellises Terrace by Waldorf-Astoria, Villa Montaña Wedding by Cheryl Z. for VillaMontana.com, Puerto Rico Parador Costa Del Mar by TropicalInnsPR.com, El Conquistador Wedding Venue by ElConResort.com, Wyndham Rio Mar Wedding Table Setting by WyndhamRioMar.com
Written by:
Alfredo Hannibal
PUBLISHED: Jun 9th 2017