Puerto Rico Historic Sites
Arts & Culture
Any traveller to Puerto Rico will quickly find that it has more to offer than beautiful beaches.
Learn about Puerto Rico's unique historical sites using our informative guide. We provide a variety of sites and tours, so whether you prefer dining, exploring forts or listening to old legends, we have a Puerto Rico activity to suit your fancy.
Discover the Historic Sites of Puerto Rico
Any traveller to Puerto Rico will quickly find that it has more to offer than beautiful white sand beaches. Throughout the island, you will find an array of historical attractions providing insight into the country's rich past. When you are ready to take a break from the beach and learn more about the history, culture and local flavour of Puerto Rico, we have selected some excellent options for you to explore.
San Juan National Historical Site
Situated on the pristine Puerto Rican coastline, San Juan National Historic Site is one of the country's major attractions, drawing in more than two million visitors per year. At this large fortress, built in the 17th and 18th centuries to protect the coastline and enclose Old San Juan, visitors can still explore its six levels rising 140 feet above the sea. The U.S. National Parks Service owns and operates this historic site, which is comprised of the following features:
·      Castillo de San Cristóbal (also known as Fort San Cristóbal)
·      Castillo San Felipe del Morro (also known as Fort San Felipe del Morro)
·      Fortín San Juan de la Cruz (El Cañuelo)
·      El Paseo del Morro National Recreation Trail
·      Bastions
·      Powder Houses
·      Old San Juan City Walls
Cost: $5 for a seven-day pass to all fortifications.
Hours: Daily, 9am to 6pm, except on Thanksgiving Day, Christmas Day and New Year's Day.
Traveller Tip: Visitors should plan to spend a few hours at the site and bring lots of sunscreen and comfortable walking shoes. 
Walking Tours
Flavors of San Juan
Many travellers love to explore rich history and try local cuisine but often have difficulty finding authentic places that are not tourist traps. Flavors of San Juan offers the perfect solution to this problem with small, personally guided lunch and dinner tours. Tour options include the Signature Dinner tour, Foodie Lunch tour and the new 'La Placita' Market tour, each of which show visitors a unique culinary side of San Juan combined with tidbits about local history and architecture.
Cost: $49-$79 per person, depending on the tour.
Hours: Differs by tour, see website for more information.
Traveller Tip: Come with an empty stomach, a camera and an open mind! Also, bring a little bit of extra cash in case you want to do some souvenir shopping.
Spoon Food Tours
For a customized more personal experience, Spoon Food Tours offers itineraries that will take you to local and off the beaten path food locales, offering a true Puerto Rican food tasting adventure. In addition to the Old San Juan Walk & Taste Tour other options include the San Juan Drive Around Lunch Tour, Sip & Savor Drinking Tour, Private Gourmet Gastro Dinner Tour, all designed to delight, inform and fill your belly. In addition Spoon Food Tours partners with other companies to offer Trapeze (Wow) and Cheese Making Classes.
Please see website for more information.
Old San Juan Night Tour
If you are looking for an exciting evening activity, you can learn about the tales of Puerto Rico's Spanish colonial days on a nighttime tour of Old San Juan. These guided walking tours give visitors an inside look into a former jail, barracks and residential areas to really get a glimpse of colonial life on the island. Guides weave in tales of bravery and love to breathe life into some of the legends of Old San Juan. As a bonus, you'll even get to see the filming locations of famous TV shows and movies made in San Juan.
Cost: $35 per person, excluding gratuity.
Hours: Nightly, 6pm to 8pm.
Traveller Tip: One of the tour sites was featured on Ghost Hunters International, so be prepared to hear an eerie tale!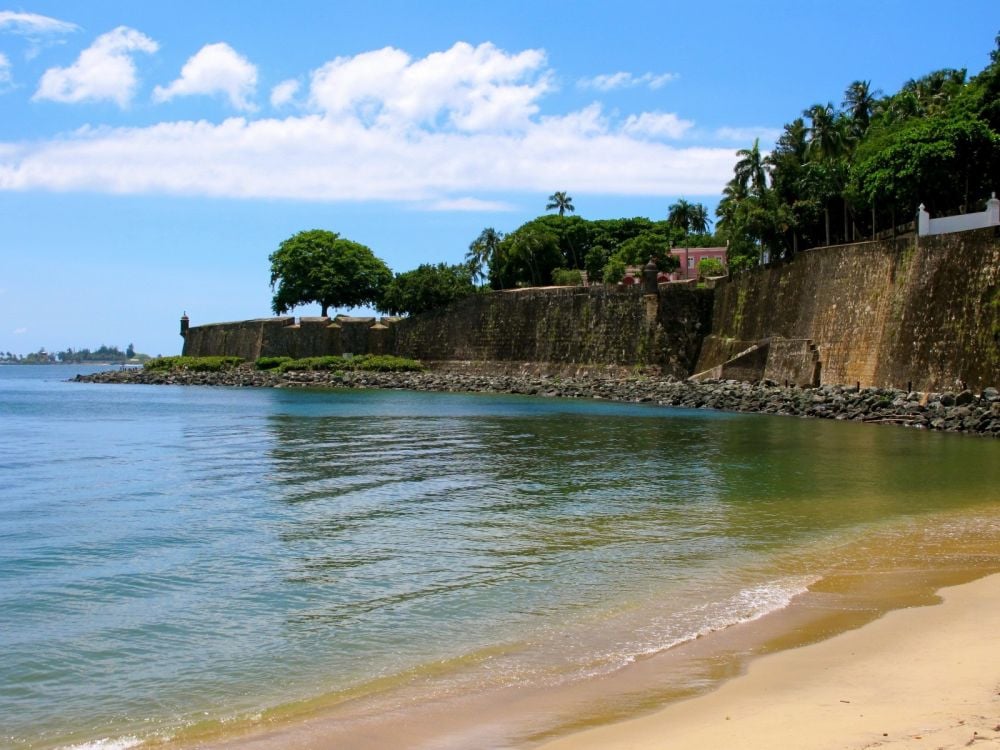 Find Historical Sites Outside of San Juan
Hacienda Buena Vista
Calling all coffee lovers! Hacienda Buena Vista, which began as a fruit and produce plantation in 1833, is now one of the most well-preserved coffee plantations in the country. Located near Ponce in Puerto Rico's Porta Caribe Region on the South Coast, the plantation's 87 acres include a manor and carriage house, horse and mule stables, a caretaker's house and office, two warehouses, a hurricane shelter, a corn and coffee mill, and slave quarters. During the peak of production, more than 10,000 pounds of coffee were processed and shipped to Europe from this plantation. Today, visitors can tour the plantation as a living museum to see 19th century coffee production in action as well as gain an understanding for what plantation life was like during the 1880s.
Cost: $10 for adults, $7 for children.
Hours: Group tours available Wednesday and Thursday; guided tours available Saturday and Sunday at 8:30am, 10:30am, 1:30pm (English only) and 3:30pm. All tours require advance registration by calling +1-787-722-5882 or +1-787-284-7020 on the weekends.
Traveller Tip: Plan a trip in October or early November if you want to sample the coffee, and visit the plantation in March to witness cacao processing.
This blog post was provided by Marriott International, which operates more than 3,700 hotel properties and 18 brands in 70 countries. Updated by My Guide Puerto Rico: 12/28/2013.