Motels in Puerto Rico: Romance by the Hour
Adventure
Perfect for the honeymooning couple or those looking for a mischievous, yet romantic getaway.
Motels in Puerto Rico tend to have a bad reputation: Government officials and regular citizens alike are said to escape to these places, where "romance by the hour" may be had with total discretion. However, underneath all the bad talk, along Calle Número Uno hides a selection of clean, tasteful suites. Motels that are perfect for the honeymooning couple or those looking for a mischievous, yet romantic getaway.

For those new to the Puerto Rican motel concept, let us introduce you. Typically, motels in Puerto Rico charge not by the night, but by 8-hour periods. Back in the day, these establishments were said to be used by escorts or celebrities looking to have an affair discretely. Each suite has a self-contained garage that shuts behind you, so even fellow customers will never know that you were there. Then, once in the suite, you will find all types of sensual amenities: From love machines and heart-shaped hot tubs to dancing poles, disco lights and toy/lubricant combos that may be ordered via room service.

While all these sexy offerings are still readily available, motels in Puerto Rico are not as seedy as they once were. A tree will always have its bad apples, but there is a selection of motels quite apt to please those lovebirds seeking an unforgettable, mischievous night while visiting La Isla Del Encanto. Most of them are just a short ride away from the capital, within the San Juan Metro area, about 20 minutes south in Caguas.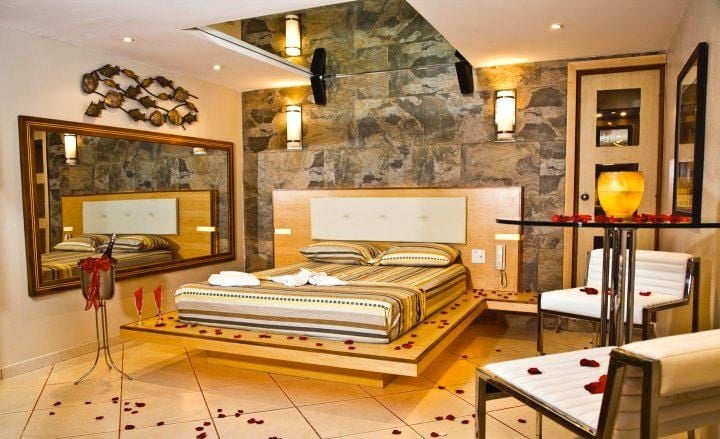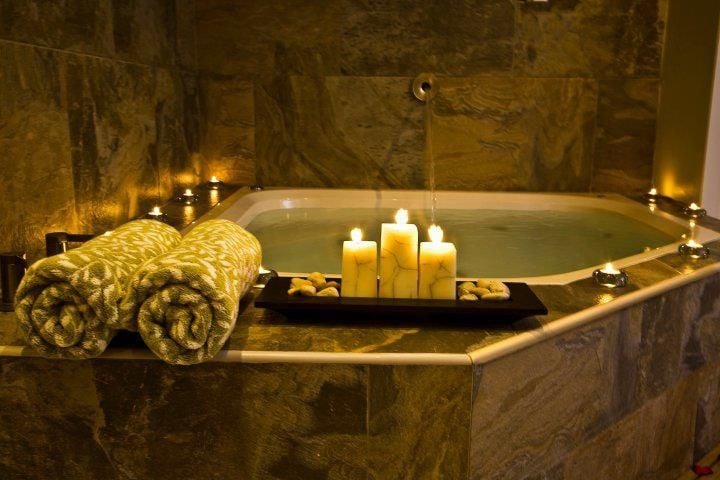 First up is Villa Arco Iris, no doubt one of the top motels in Puerto Rico. Clean, private, and even luxurious, the rooms and suites at this establishment are top-notch. While the beds are not the most comfortable ones you'll ever lay your head on, the ambiance and "sexy menu" offerings will sure make for an unforgettable 8 hours (or 16).

The best Villa Arco Iris suite, in our opinion, is the Villa Jacuzzi Zen II. Decorated with gorgeous marble tiles and ceiling mirrors over the hot tub and bed, the room is also outfitted with 32" LCD flat-screen TV, DVD/CD home theater system with 6 speakers, iPod/MP3 player hookup, radio AM/FM, and non-smoking environment. Additionally, a two-person minimalist dining set is located by the Jacuzzi, plus candles, bubble bath, rose petals, and even champagne bottles are available upon request.

When it comes to the "sexy menu," all types of fantasy combos are offered. Pairings include Kamasutra oils, toys (brand-new, by the way), and natural stimulants/lubricants for him & her. In addition to the sensual offerings, the kitchen is open 24 hours a day. You may try a variety of American and Puerto Rican finger foods, wines, beer, spirits, sandwiches, desserts, and even shrimp or pork chops!

Other rooms in Villa Arco Iris Motel include dancing poles, disco lights, love machines, and even balconies with relaxing river views. Better yet? It is the first "green" motel in Puerto Rico. Solar panels were recently installed, providing about 50% of the motel's electricity. Click here to see rates and more photos.
Villa Arco Iris Motel
Barrio Rio Cañas, Carretera 798, Km
Caguas, Puerto Rico 00725

Tel. (787) 747-9492
E-mail: info@villaarcoirismotel.com


Other recommended motels in Puerto Rico, located within Calle Número Uno vicinity, include the following:

Hotel OK Resort
Carretera Número 1, Km 26.2
San Juan, Puerto RIco

Tel. (787) 789-9696
E-mail: info@hotelokresort.com


Motel Bambú
Barrio Rio Cañas, Carretera 798, Km 27.2
Caguas, Puerto Rico

Tel. (787) 747-9491
E-mail: gerencia@motelbambupr.com


TLTR? Going off the beaten path in order to be a little naughty is well worth the effort. Book a couple of hours in one of the motels in Puerto Rico for a sexy, mischievous escapade in the tropics.
Maria Alexandra Laborde has lived, studied and traveled extensively throughout Puerto Rico, the Middle East & North Africa. She shares her knowledge and love for the Arab world through stories, travel guides, and photo essays on her niche blog Travel The Middle East. Also, Maria is the author of LatinAbroad: Cultural Travel Blog, where she shares cultural encounters and advice after traveling to more than 20 countries across 4 continents. Follow her on Google+, Facebook and Pinterest!