Golfing in Puerto Rico
Sports
The variety of greens available can make the island a perfect choice for pros and amateurs alike
Hailed as the top golfing destination in the Caribbean, Puerto Rico golf is top-notch, with some incredible courses created by the world's most famous golf course designers in a tropical setting of lush vegetation, beautiful hills and rivers, and breath-taking shorelines. 
The fabulous development of the island as a golfing paradise owes something to the advantage of being a US territory, where Americans (the top golfing vacation consumers in the world) don't need things like a passport, proficiency in a different language or a different kind of currency. Puerto Rico´s natural beauty combined with these favorable circumstances has interested even the Trump empire, which has created the Trump International Golf Club, home of the PGA Tour's Puerto Rico Open; a competition that has become one of the most awaited golf tournaments of every year.
Players for every season
With a tropical climate moderated by cool sea breezes and rich in sunshine, Puerto Rico offers golfing travel opportunities all year long. The variety of greens available can make the island a perfect choice for pros and amateurs alike.
Between travellers and locals, Puerto Rico attracts about 10,000 golfers every year, and it has given to the world some of the greatest golf masters of all times; most prominently, the Río Piedras-born Chi Chi Rodriguez. 
The courses in general
There are over 20 golf courses around the island, and about 15 of them are considered world-class courses. This creates a perfect environment for both experts looking for new challenges and amateurs just looking to have a good time playing some beautiful greens.
Typically, you don't need a reservation in advance to play a green, but this may vary by course, so it is always best to check. Many of the top courses are located in fabulous 5-star seaside hotels, which creates a perfect combo of beach, pool and spa time with world-class golfing that will be extremely hard to resist. Green fees range approximately between $30 and $160, and golf courses are located all over the island, both in the countryside and by the sea.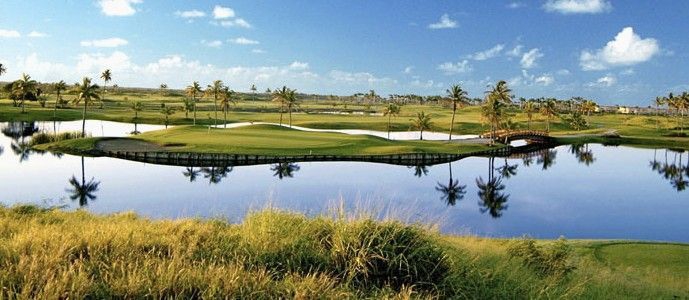 The top local courses
The Trump International Golf Club is naturally one of the most famous. The adjacent Gran Melia Resort Rio Grande offers great packages including spa treatments, fabulous traditional Puerto Rican cuisine and daily rounds of golf at the Trump Empire's greens at affordable prices (in comparison to same level golf packages in other locations).
There are two courses at Trump International. Both of them are the work of designer Tom Kite. The championship course where the Puerto Rico Open takes place is a par-71, 7,500-yard course.      Spreading over a varied scenery of coastline, mountains and parkland crossed by multiple waterways, these golf courses also feature a rich tropical vegetation which includes enchanting tree groves and an abundance of flowers. Covering 1,200 acres of land by the sea, this spectacular golfing area provides breathtaking views of both the ocean and the Puerto Rican rainforest. 
The Robert Trent Jones Sr Championship Courses-four fabulous courses designed by Robert Trent Jones Sr himself- are part of a Hyatt Regency complex, located only a 45-minute drive from the international airport of San Juan. Once a property of the Rockefeller family, the complex embodies the spirit of a luxury from a different time, though it has undergone costly renovations and it features all the amenities of top modern resorts.
The 7,000-yard vintage courses are known as East and West Courses (located at Hyatt Dorado Beach Country Club) and Pineapple & Sugarcane Courses, located at the Plantation Club House. They offer impressive ocean views and challenging sand and water hazards. Jones signature runway tee boxes and sculptured greens are all there, as three of the courses have been restored by Raymond Floyd, with utmost fidelity to their original form. Insider's tip: don't forget to try Chi Chi Rodriguez` favorite hole among the Plantation Club House courses.
Featuring Puerto Rico's first island green, the Costa Caribe Golf & Country Club is exclusive for the guests at the Hilton Ponce Resort. Set between the turquoise Caribbean waters and a line of imposing mountains, this course features 27 holes of Championship golf and a myriad of 5-star facilities.
The Flamboyan courseat Palmas del Mar offers challenging greens across rivers and lakes, along the coastline and up on the hills. It spreads along 7,117 yards, and fierce winds make some of the holes especially challenging.    
The Rio Mar Ocean Course spreads over 6,782 yards on Puerto Rico´s Atlantic coast. Designed by Tom and George Fazio Rio Mar provides beautiful ocean views and it features one of the Caribbean's best-rated holes: an Oceanside par-3 of 238 yards, which is the course's 16th hole.
On the other hand, the Rio Mar River course by the side of the Mameyes River covers 6,945 yards, which offer beautiful sea and mountain views. The first course designed by Greg Norman in the Caribbean, this is a golfing area fit for both the pro and the amateur, and its 18 holes are every bit as special as Norman-designed holes usually are. (Both Rio Mar golf courses are part of the Wyndham Rio Mar Beach Resort).
There are many more world-class golf courses all over this beautiful and friendly island. Whether you are a professional golfer or just an avid traveller with an interest in playing some beautiful greens, Puerto Rico has everything to provide everything you desire, and even more.